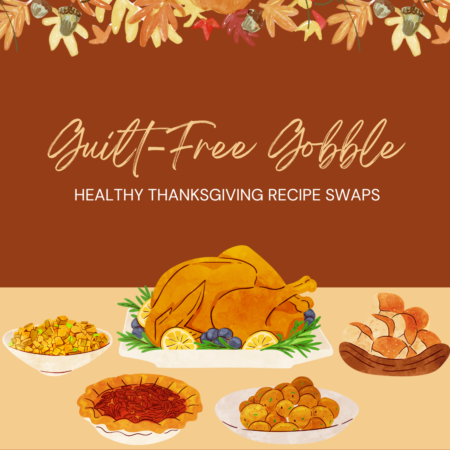 Thanksgiving is a time for indulging in all of our favorite comfort foods, but it doesn't have to mean throwing our healthy habits out the window. With just a few simple swaps and substitutions, you can enjoy a guilt-free feast without sacrificing any of the delicious flavors. Whether you're looking to lighten up your traditional menu or try something new, these three healthy Thanksgiving recipe swaps are sure to satisfy your cravings and leave you feeling nourished and satisfied. So put away the stretchy pants and get ready to indulge without the guilt with these tasty and nutritious dishes.
Redefining Traditional: A Healthier Take on Thanksgiving Turkey
Thanksgiving just wouldn't be the same without a succulent, roasted turkey taking center stage on the dinner table. But what if we told you that you could enjoy this Thanksgiving staple in a healthier way? Yes, it's possible to redefine tradition and create a turkey dish that is not only delicious but also good for you.
Instead of slathering your turkey with butter or drowning it in heavy gravy, try basting it with a flavorful herb rub. Combine fresh herbs like rosemary, thyme, and sage with a little olive oil, salt, and pepper. This will not only add a burst of flavor but also help keep the turkey moist and tender.
Another way to make your Thanksgiving turkey healthier is by using a leaner cut of meat. Instead of the whole bird, consider opting for a turkey breast or even turkey cutlets. These cuts have less fat and fewer calories than the dark meat, making them a better choice for those watching their waistline.
Lastly, try roasting your turkey on a rack instead of directly in the pan. This will allow the excess fat to drip off, resulting in a leaner and healthier turkey.
Guilt-Free Indulgence: Savory Sweet Potato Casserole
Thanksgiving wouldn't be complete without a side of creamy, comforting sweet potato casserole. But all too often, this delicious dish is laden with butter, sugar, and marshmallows, turning it into a guilty pleasure that can leave us feeling sluggish and regretful. Well, fear not! With a few simple swaps and adjustments, you can enjoy a guilt-free indulgence with a savory twist on the classic sweet potato casserole.
Instead of drowning your sweet potatoes in butter and sugar, opt for a healthier alternative by roasting them with a drizzle of olive oil and a sprinkle of sea salt. This brings out the natural sweetness of the potatoes without adding unnecessary calories or fat. For added flavor, try tossing in some chopped fresh herbs like rosemary or thyme.
To give your casserole a creamy texture without the heavy cream, swap it out for Greek yogurt or almond milk. These alternatives provide a smooth and velvety consistency while adding a dose of protein and reducing the saturated fat content.
For the topping, say goodbye to marshmallows and hello to a crunchy, savory twist. Crushed whole wheat crackers mixed with a bit of grated Parmesan cheese and a sprinkle of paprika make for a delightful and guilt-free topping that adds a satisfying crunch to every bite.
Fresh and Fit Dessert: A Lightened-up Pumpkin Pie
Thanksgiving just wouldn't be complete without a slice of delicious, creamy pumpkin pie. But let's be honest, traditional pumpkin pie can be heavy on the calories and sugar. If you're looking for a guilt-free dessert that still satisfies your pumpkin pie cravings, look no further than this lightened-up version.
To start, swap out the traditional pie crust for a healthier alternative. Instead of a buttery crust, try making a crustless pumpkin pie or using a gluten-free graham cracker crust. These options are lighter and still provide that satisfying crunch.
Next, let's tackle the filling. Instead of using heavy cream and excessive sugar, opt for lighter alternatives. Use low-fat or skim milk instead of heavy cream, and sweeten your pie with natural sweeteners like maple syrup or honey. Adding warming spices like cinnamon, nutmeg, and cloves will enhance the flavor without the need for extra sugar.
To make this pumpkin pie even more nutritious, consider adding some extra ingredients. Chia seeds, for example, can provide a boost of fiber and omega-3 fatty acids. And if you're feeling adventurous, try swapping out some of the pumpkin puree with mashed sweet potato for added flavor and nutrients.
With these simple swaps and adjustments, you can enjoy a guilt-free pumpkin pie that is light, flavorful, and still oh-so-satisfying. So go ahead, indulge in this fresh and fit dessert that will leave you feeling nourished and ready for a post-Thanksgiving stroll.